The Santa's Secret Coloring Book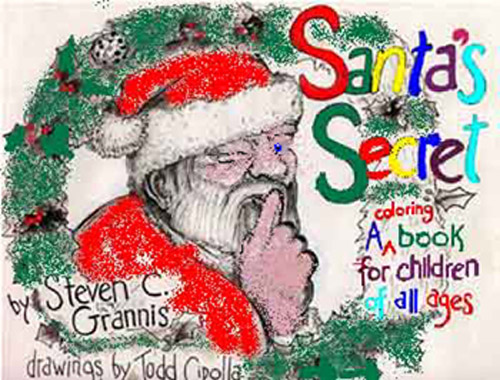 Santa's Secret is a magical story that will come to life every holiday season for many years. The Santa's Secret coloring book is complete with 21 images as an on-going coloring project to be enjoyed year after year. Santa's Secret will become a valued treasure recalling many wonderful Christmas memories.
To see examples of the illustrations and story...

Santa's Secret is a story answering the question of how Santa is able to deliver toys to all children the world over in one night. The story begins with God sending two angles to earth to find a special boy living at the North Pole. The angels appear as reindeer named Donner and Dasher. Given two secret powers by God to assist Kris/Santa complete his mission, Donner and Dasher have six babies, together, they become Santa's team of eight magical reindeer. The story follows Kris Kringle from childhood to his ultimate destiny as Santa Clause.

The story of Christmas, Christ's birth and the myth of Santa Clause are brought together bringing a delightful twist to the celebration of Christmas. The principals of love, peace, joy, forgiveness, patience, persistence, faith and trust are messages found throughout the book. The Santa's Secret coloring book has twenty-two sketches offer a unique coloring book for children and adults. Tenderly rendered by Todd Chipola. This incredible artist has brought his gifts, feelings and emotions to every illustration. Everyone who enjoys the quiet innocence of coloring will have great pleasure with this book. The story brings forward a timeless message... Love one another.
Add the Magic of Santa's Secret to this year's holiday season!